Leap of Faith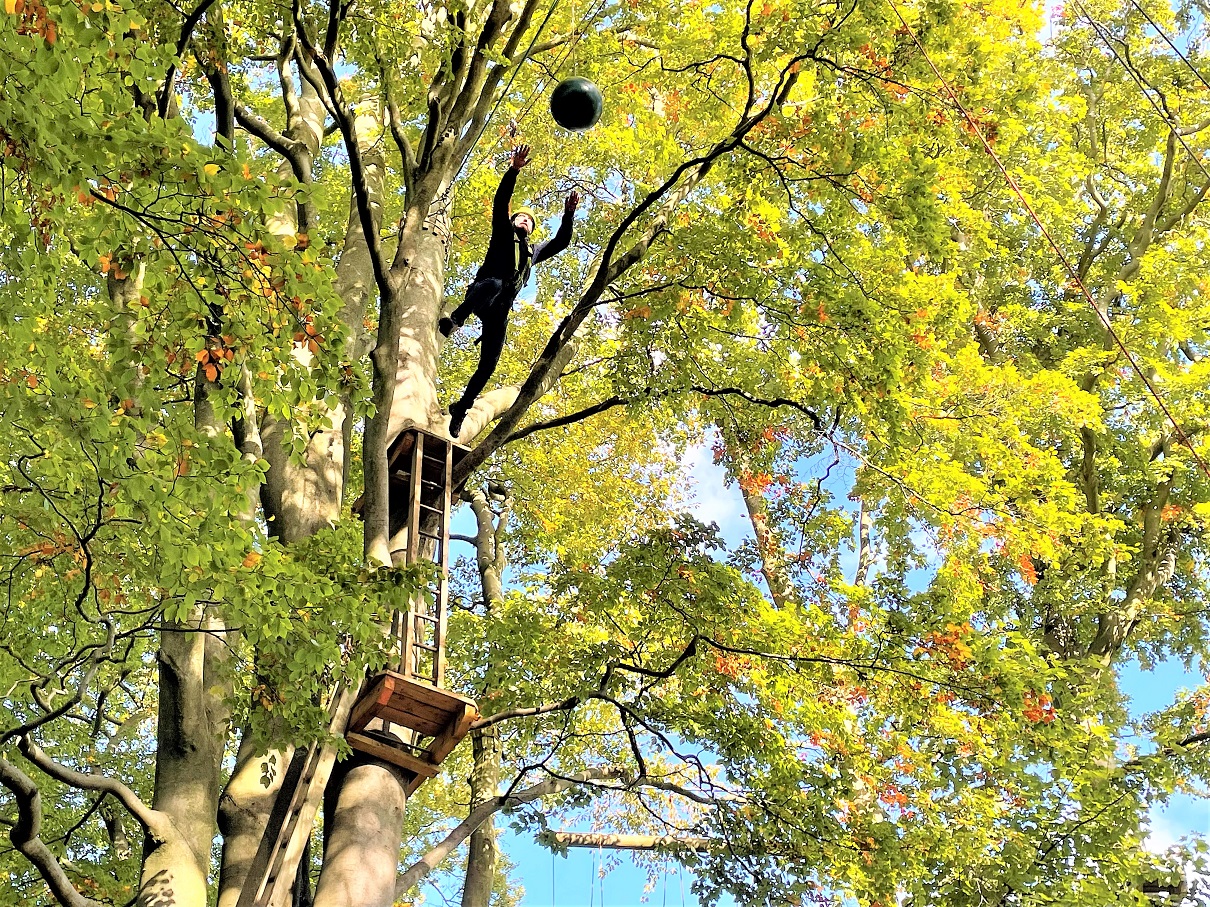 Description
What is a Leap of Faith?
Our Leap of Faith is based in a tree. Unlike many other Leap of Faith activities ours offers the participant three levels of height. Level 1 is at 10 foot/ 3 metres, level 2 is at 20 foot/ 6.5 metres and if you are feeling really brave climb to the top platform at 35 feet/ 10.6 metres.  Suspended next to the tree is a buoy attached to a rope that can be lifted and lowered depending on where you decide to jump from. The aim is to jump and high five the buoy. The challenge is to climb up the tree using the wooden ladders attached and reach the first platform. Decision time. Do you take the leap from here or continue to the next level? Once decided, you face the leap and will need to summon all your courage to overcome the voices in your head that are telling you not to do it. The rest of the team are on the floor below with plenty of encouragement and support for each challenger.
Once you have made the leap you will be lowered back to the ground safely by the instructor. A real BUZZ!
Suitable for age 8 to adult.
Learning Outcomes of the Leap of Faith
Enjoyment, self awareness and reflection, encouragement and support, perseverance, mutual respect, awareness and consideration of others, increased self esteem and confidence, shared experience, willingness to try, personal development, sense of achievement.
Venues
This activity takes place at Outdoor Elements own outdoor activity centre set within a beautiful 7-acre woodland in Simonstone. Outdoor Elements Teambuilding and Outdoor Activity Centre is easily accessible, near to Burnley, Blackburn and the Ribble Valley in Central Lancashire. The Leap of Faith is just one of the high ropes activities available.
More…
The Leap of Faith can be an element within a team challenge event.
The Leap of Faith can form part of a birthday party package.
The Leap of Faith can be combined with the Crate Stack and Jacob's Ladder for a half-day outdoor activity session